DSNG / UPLINK / EASYLINK
To broadcast your news report or live transmission SwissNews offers the complet broadcast solution. Fully redundant satellite uplink trucks nearly to use in every envoirement
DSNG 1+1 VPC
Vehicle : Mercedes Sprinter
Generator : Diesel 10KW
Antenna : X-MAS 190
Power : CEE63 / CEE32 / CEE16 / 220V/16A (1+0)
System : 2x400W HPA, fully redundcy, 1+1 or 2+2 VPC
Modulation:,SD/HD - MPEG2 / MPEG-4, QPSK - 32APSK
Licencees : Switzerland / Germany / France / Austria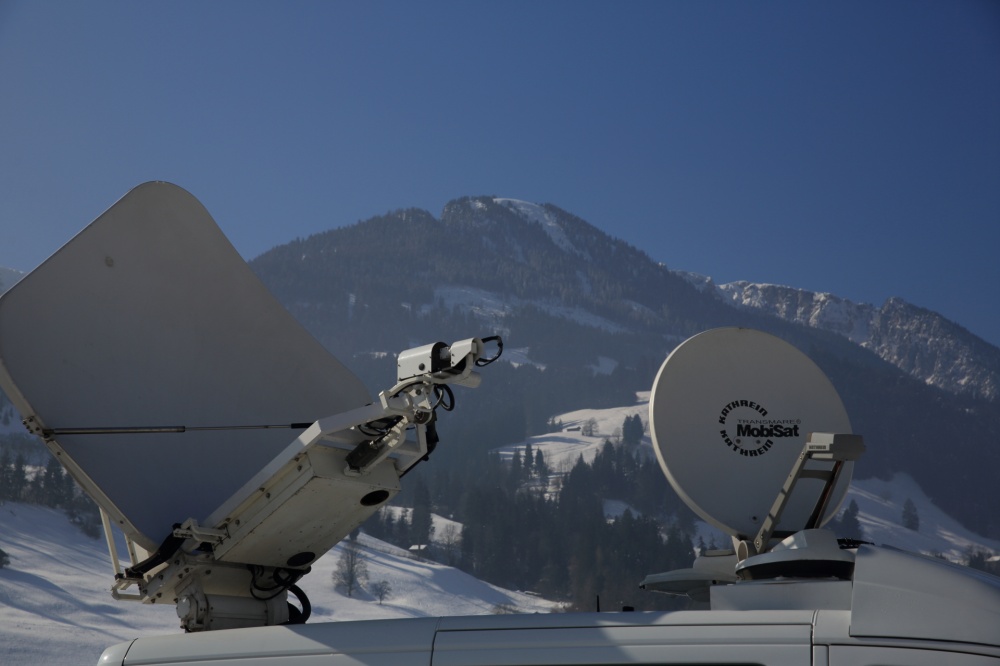 Italy on special request 4 weeks before the event. Extra licencee fee.
DSNG 1+0 EASYLINK:
Vehicle : VW Multivan
Generator : Benzin 2,50KW
Antenna : Swedish
Power : CEE63 / CEE32 / CEE16 / 220V/16A (1+0)
System : 1x250W HPA, 1+0, SD/HD QPSK - 32APSK
Modulation : SD/HD - MPEG2 / MPEG-4, QPSK - 32APSK
Licencee : Switzerland / Germany / France / Austria
LIVE NEWS OVER SATELLITE
VIDEO CONFERENCE OVER SATELLITE
Your company or your product shall be in the international tv news headlines? We can help you to reach this target. SwissNews Inc. is working since 20 years closely together with the worldwide most important tv stations and biggest television news agencies. This can be your instrument to place your product or company information in the international "news", immediately and world wide distributed.